Digital nomads in hostels? It's more likely than you'd think!
Yeah, yeah, we all know the reputation hostels have as party meccas for rowdy, broke wayfarers on a world tour. You know, people FAR from the reality of having a full-time job, deadlines and all those silly adult things. 
But many digital nomads started out as backpackers, and they all have one thing in common: their love for travel. It makes sense that once the holiday fund runs out, these vagabonds want to find a more long-term solution to keep travelling. And so digital nomadism was born.
Working in hostels used to be a very difficult thing — like, who wants to be the nerd staring at their laptop when everyone else is partying away??
But hostels are catching up. In fact, 2022 is the first year that Hostelworld has featured a category for digital nomad-friendly hostels in their annual hostel awards!
So, what are the best hostels for digital nomads in the world? Dive into this little list of the top digital nomad hostels in the world and start preparing for your next (professional) adventure.
Why Stay at a Digital Nomad Hostel?
Not all hostels are made equal (although most of them are still awesome!), and if you're working on the road, more often than not you'll need some space for that extra bit of focus.
Picking a hostel where to stay as a digital nomad is a critical task to make sure your work actually gets done. Those digital nomad jobs don't do themselves!
One grand old reason to pick a digital nomad hostel is that normal hostels don't usually have good structures for laptop workers. Shoddy wifi is the bane of every digital nomad's existence, and there are simply no comfy chairs in sight. However, this is not necessarily a problem as you can pretty easily find a co-working space or café outside the hostel.
What IS a problem, however, is that hostels can be very distracting environments. Don't get me wrong – if you're just travelling, the distractions are the real reason to stay in hostels! But if you're on a deadline, the noise, chatter and especially the lure of evening attractions will kill your motivation to work and become a good digital nomad.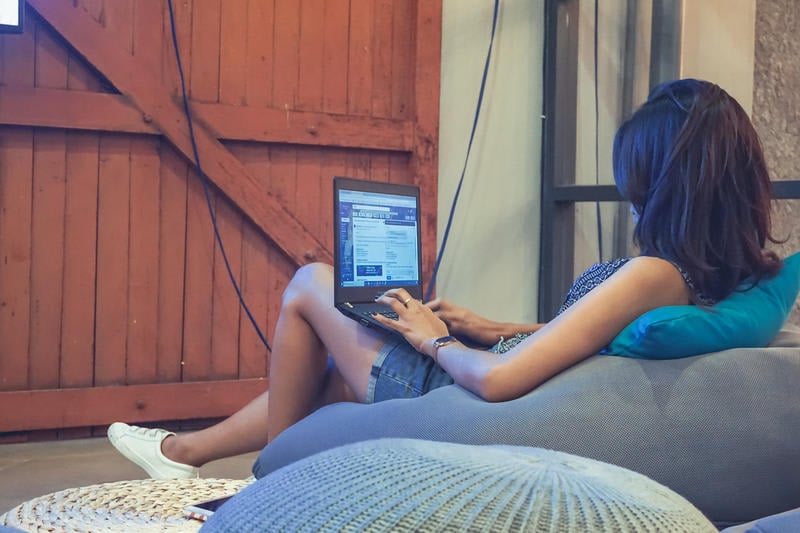 Lastly, travellers congregate in hostels to meet new people, and so do digital nomads. I've unfortunately noticed, though, that I no longer have much in common with a broke gap-year backpacker counting fractions of cents while I've got a steady paycheck coming in. Digital nomad hostels are a great opportunity to meet travellers with the same lifestyle as you!
The truth about the digital nomad life is that travelling while working is tough. Take it from me – in the past few years, I've spent numerous nights crouched over my laptop in way-too-low bottom bunks, night buses and even mid-happy hour with a drink in hand.
Switching places from one corner of the hostel to the other trying to chase down the strongest available Wi-Fi signal. Oh, what I would have given for a quiet workspace…
How to Find Digital Nomad-Friendly Hostels
For now, there aren't a whole bunch of hostels that specifically cater to digital nomads. You're most likely to find these newly built spots in digital nomad-friendly countries, especially in regions like Central and South America, Southeast Asia and Europe.
But just because a hostel isn't specifically marketed as a digital nomad-friendly space, that doesn't mean it couldn't be a perfect option for your next destination! Be on the lookout for these things:
Browse the photos. Are there tables, comfortable chairs, bean bags, or perhaps a reading nook? You want to scout out if the hostel has any areas that would be suitable for working so that you don't end up typing away in a cramped bottom bunk.
Many hostels have an attached café that could be a good work spot. Generally, it is a good idea to avoid hostels with bars cause, y'know, parties.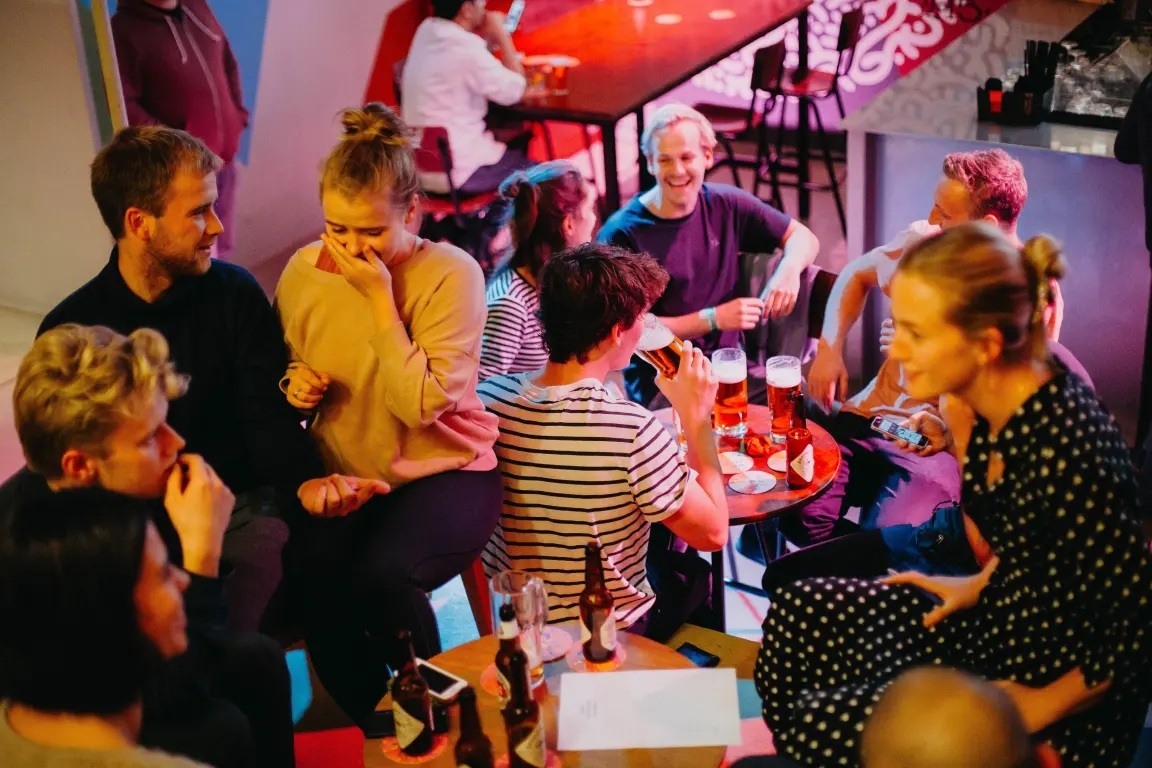 Read reviews. Reading reviews is important in general to make sure that other guests have had a great experience there, but they are also useful for gauging out DN-friendly spaces! Sometimes hostels are bad at describing themselves and might forget to mention important things like desks in their description, which other guests will be gracious enough to point out.
And most importantly: avoid party hostels. Not only because the noise will distract you and keep you awake – no, it's because you'll be tempted to join in! Nothing's worse than trying to work with a hangover. Most hostels are bound to entertain some level of debauchery, but it is a widely-spread hostel myth that ALL hostels would be party places. Be smart about it and pick a quiet one.
Is This the Best Travel Pack EVER???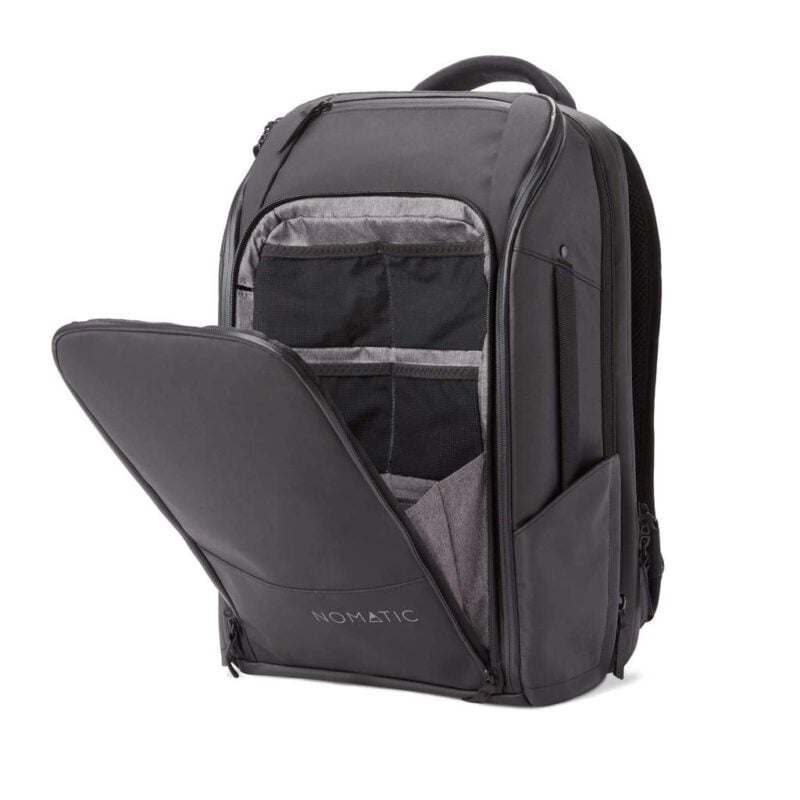 Best Digital Nomad Hostels Around the World
Some hostels have become pioneers in setting forth a new accommodation generation to suit the lifestyle of digital nomads. Here are the best hostels for digital nomads around the world right now:
1. Tribal Hostel Bali, Canggu, Indonesia
Tribal Hostel Bali is one of the newest kids in the game and is ready to welcome digital nomads, laptop lifers and online entrepreneurs to work hard and play hard at one of the best coworking spaces in Bali.
Bali's first dedicated digital nomad hostel is smack bang in the middle of Pererenan, DN mecca Canggu's cooler little sister, but still in a quiet place between rice paddies. It's got awesome accommodation spaces that are specifically built for privacy – even the dorms have privacy curtains and sturdy big beds! But you can opt for a private room as well.
And sure, the facilities are awesome, but the best part? The star of the show is the huge co-working area that takes up the entire downstairs space of the hostel. Multiple seating options and plugs galore ensure that your work won't be interrupted for nothing. The workspace is also open to non-residents so Tribal is an excellent spot to make some local friends while visiting Canggu.
Delish food, legendary cocktails, billiards table and a gigantic pool will keep you entertained between business calls. But fear not, even though there IS a bar on-site, Tribal is all about those quiet hours, and you're more likely to find resident nomads in the middle of a game of Catan than Ring of Fire.
Tribal Hostel is Bali's first custom-designed, purpose-built co-working hostel so it's one of the best places to link up with the beautiful community of digital nomads in Bali. Honestly, could a digital nomad really ask for anything more?
2. Selina Hostels, Worldwide
I've bunched all of Selina up in one subheading as there are just SO MANY to talk about! Selina is the world leader in digital nomad hostels and, with its unique concept, is definitely worth checking out.
The story of Selina hostels started out in a small coastal town in Panama. They took on Central and South America, moving onto Europe, North America and Asia as well. Now there are over 80 locations around the world.
On top of being absolutely stellar hostels, the Selina chain is also one of the best options for wanderers with laptops, as all their hostels include coworking spaces.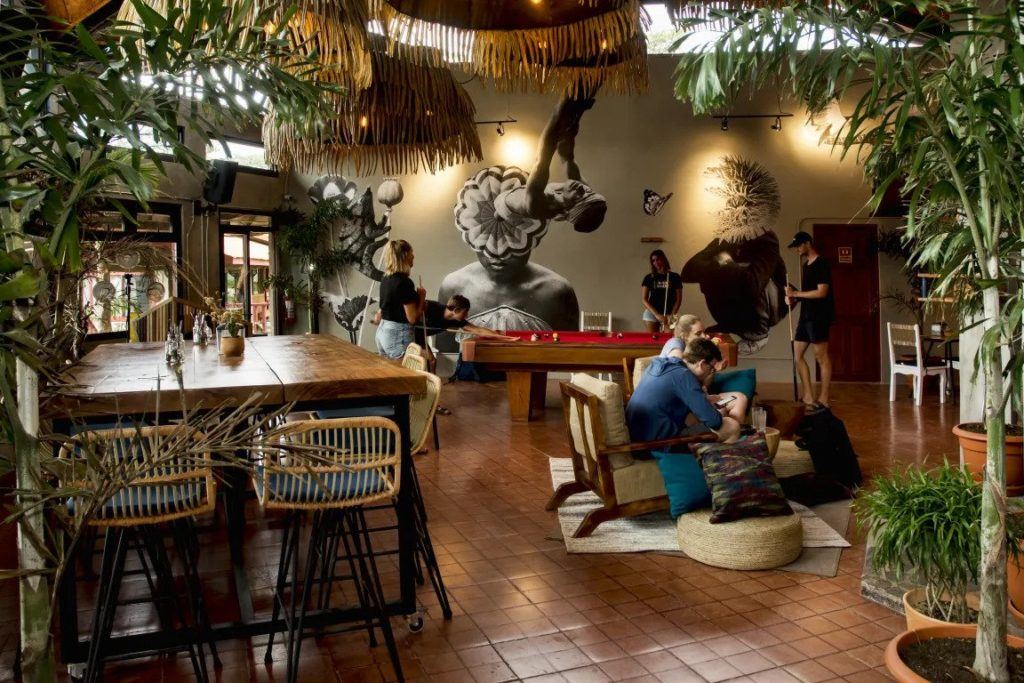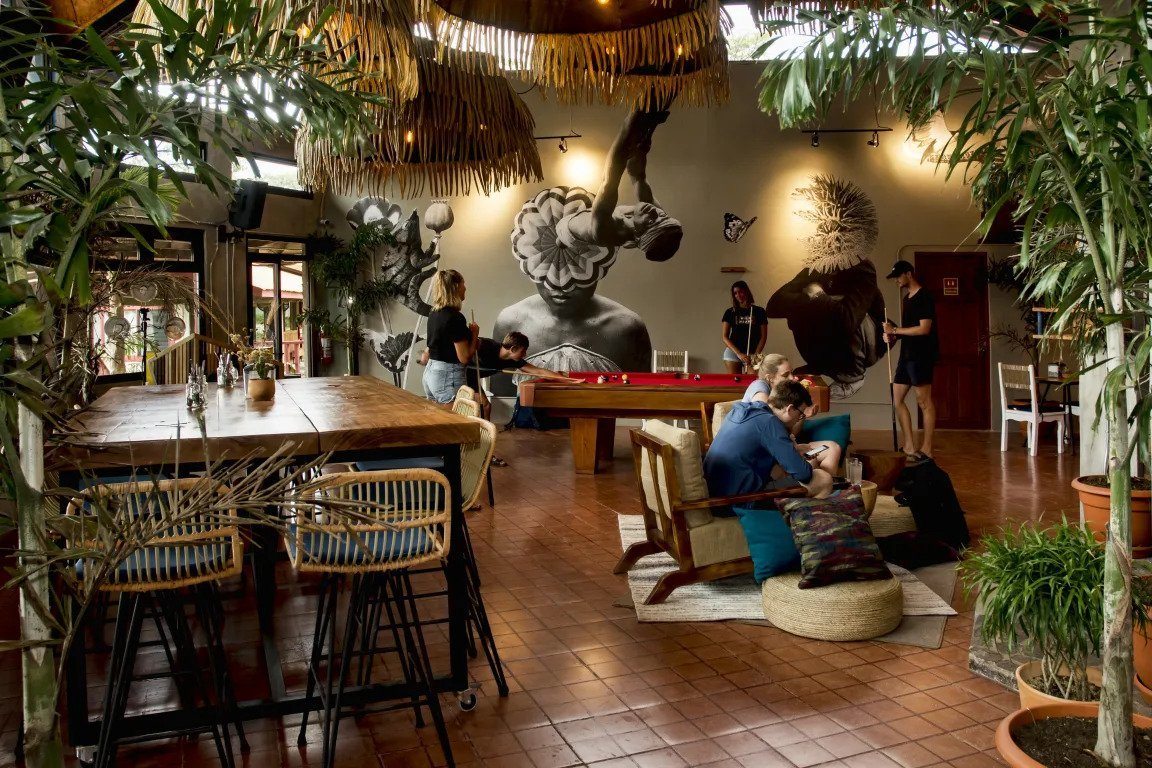 And as if that wasn't grand already, the Selina chain offers awesome coliving deals that basically let you hop from country to country and from Selina hostel to Selina hostel flexibly and cheaply.
Some Selina Hostels for digital nomads are located in Tulum, Rio de Janeiro, Cartagena, Porto… and tons of other awesome locations. Perfect for the nomad who moves around a lot but still appreciates arriving somewhere familiar every time!
3. YellowSquare, Rome, Italy
YellowSquare is for nomads that want the best of both worlds. If you're an introvert who values peace and quiet, this place might not be for you. However, if you're a social butterfly and like to cap off a tough day at work with a night out at the bar, this place is tailor-made for you!
After all, all work and no play make for one unhappy nomad.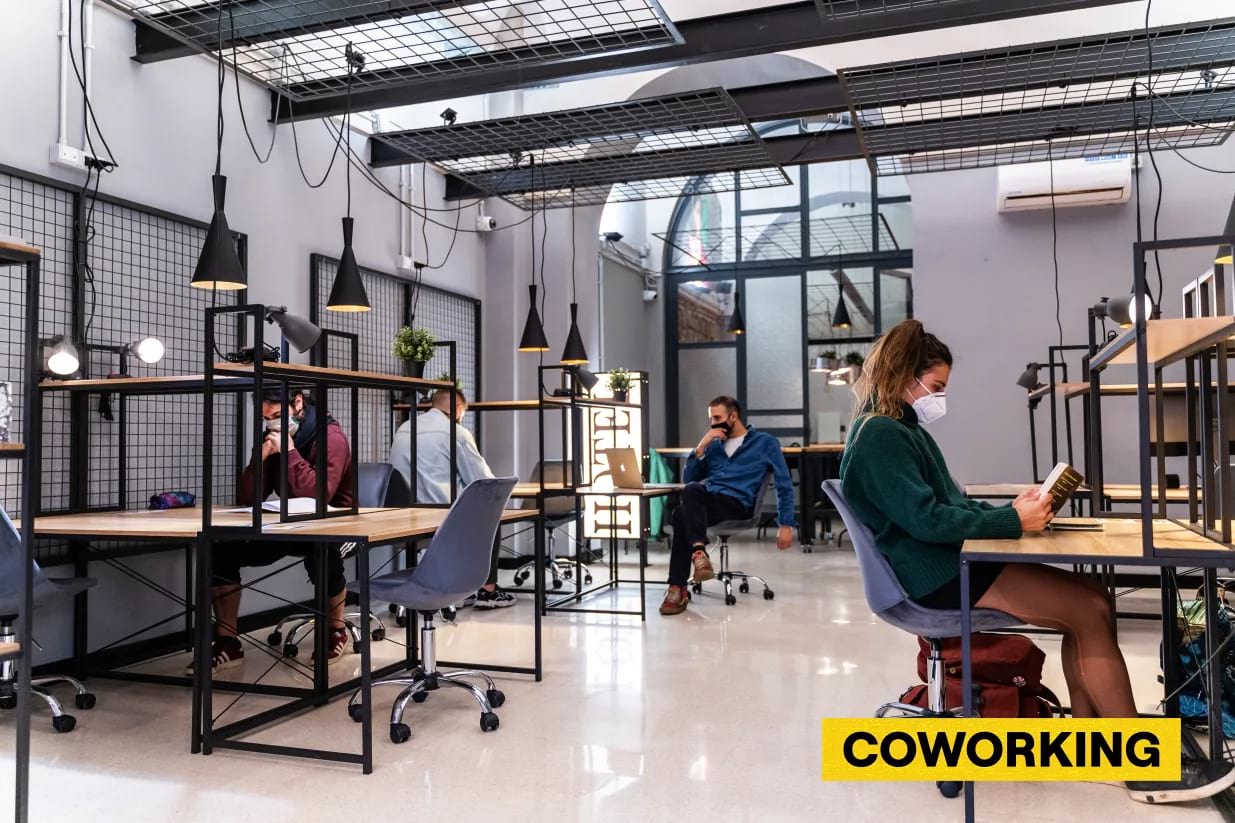 YellowSquare does have a party atmosphere, and many guests describe it as one of the most social hostels they've ever stayed at. Epic food and the lively bar downstairs make sure you have a great time in Rome. But this shouldn't be a problem – just be sure to pop a pair of noise-cancelling headphones on your digital nomad packing list.
For remote workers, though, the hostel also offers modern coworking spaces that are free for the guests of the hostel. This way, you don't have to choose between working hard and playing hard – you can do both. This might just be one of the best digital nomad hostels in Europe.
Small Pack Problems? 😉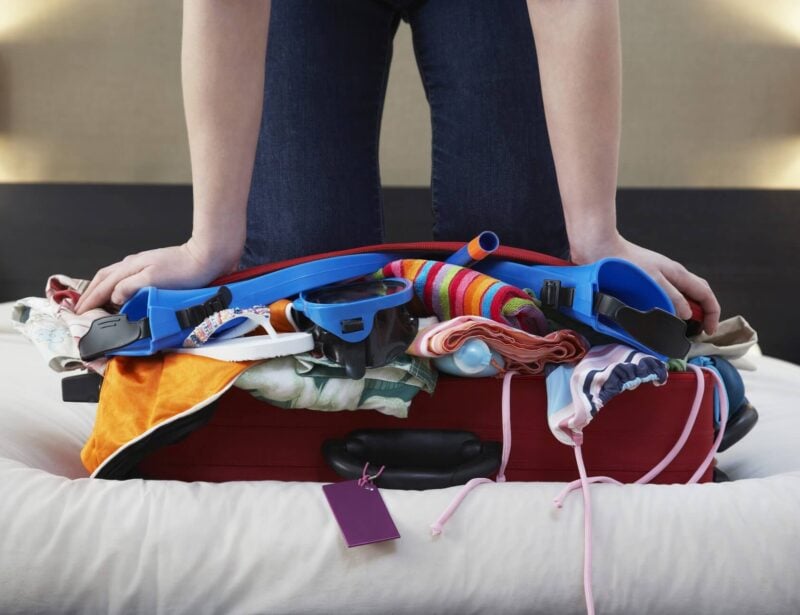 My missus travels with all her clothes in ziplock bags: don't be like my missus. UP YOUR PACKING GAME!
Packing cubes for the globetrotters and compression sacks for the real adventurers – these babies are a traveller's best kept secret. They organise yo' packing and minimise its volume too so you can pack MORE.
Or, y'know… you can stick to ziplock bags.
View Our Fave Cubes
Or Check Out the Sacks!
4. Fabrika Hostel & Suites, Tbilisi, Georgia
I'm honestly shooketh I haven't spotted this hostel in many other lists about digital nomad hostels. Fabrika is one of my favourite places I've ever stayed at! The huge building is a converted factory in one of the coolest areas in Tbilisi with tons of good food, street art and wine bars around the neighbourhood. 
Fabrika has a downstairs café that is not only a great working spot but also excellent for meeting other nomads in the city. That's right, the café is not only being used by Fabrika residents but also nomads from around town. Plus, the food they serve is delicious, which only helps the cause.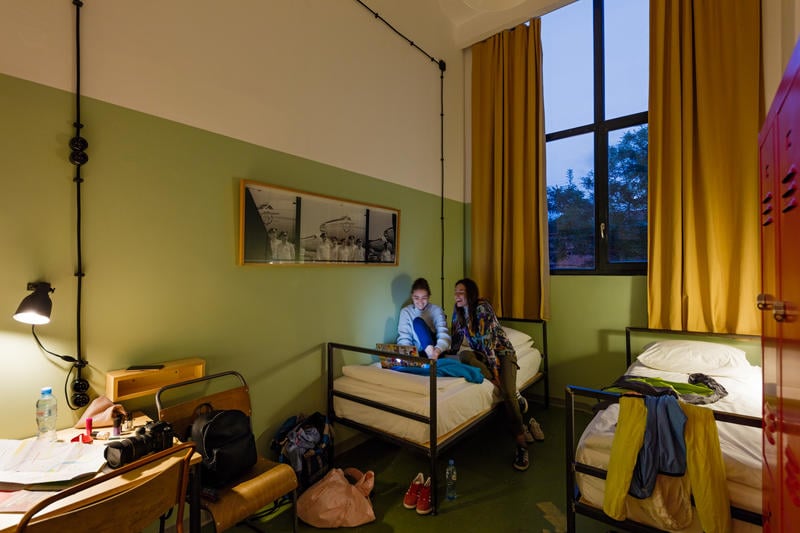 Moreover, Fabrika just has a smattering of fun events for when the business hours ends — seriously, very few other places I've ever stayed at have offered so much to do. There's rooftop yoga! Movie nights! Live music!
The courtyard behind the hostel is also an intimate and lively meeting spot for both locals and expats, complete with bars, indie boutiques and even a board game cafe.
5. Viajero Medellin Hostel, Medellin, Colombia
Viajero might just be one of the coolest hostels you'll ever see. Located in a top spot in the El Poblado area, the hostel's awesome rooftop awards views over the surrounding city. There's an onsite bar with great food and drinks, and lots of fun games & activities organised by the hostel.
Medellin is one of the top destinations in the world for digital nomads, so no wonder there's a need for a high-quality digital nomad hostel. Viajero fills this need perfectly. In fact, Viajero came up #1 in Hostelworld's hostel awards in 2022 for the Digital Nomad Hostels category.
Not only that, Viajero is easily in the running to be one of the best hostels in Medellin, period.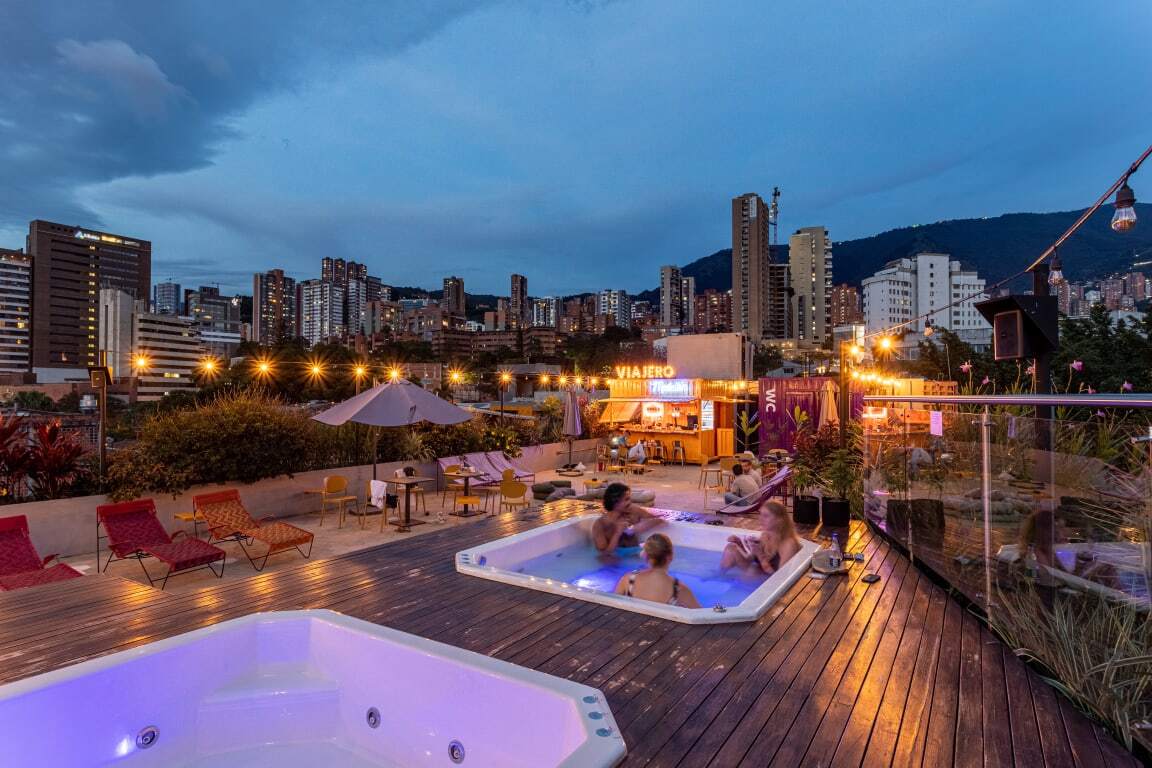 And like the good friend it is, Viajero Hostel has a designated co-working space for its guests. Even more than that, though, the hostel aims to be a motivating, inspiring environment for digital nomads. With the atmosphere of the coolest suburb in Medellin surrounding the hostel, it is surely succeeding.
6. Co.404, San Cristóbal de las Casas, Mexico
A finalist in Hostelworld's hostel awards for digital nomad hostels, Co.404 is among the top spots for digital nomads in the world. So what makes this little space in Mexico so awesome?
Co.404 was specifically designed to be a digital nomad hostel, by digital nomads. That's how you know the space has everything you might need for remote work. The focus of the hostel is to give its residents the space and peace to work during the day and have fun and socialise in the evening.
It's a little home away from home for those visiting Mexico!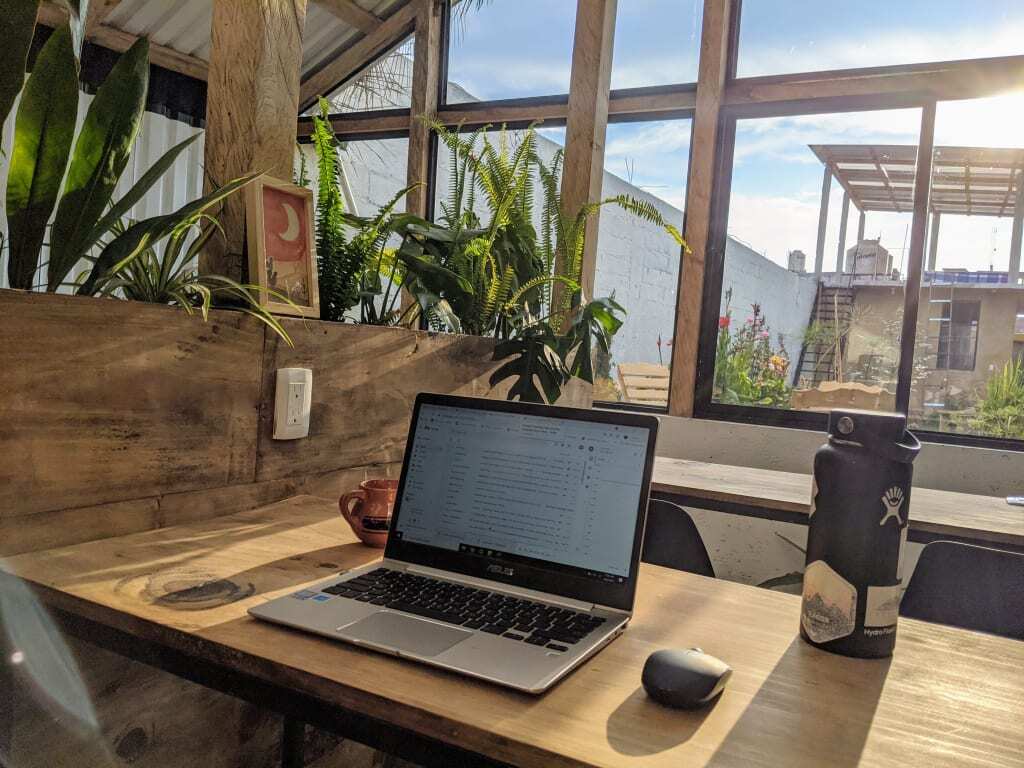 The hostel has reliable Wi-Fi (not always a given around here), provided by two different operators to make sure your Zoom call never cuts out. The hostel also has a minimum stay of 4 nights which attracts more long-term stays and takes care of the problem that hostels usually have with fast turnaround.
When you're looking for an awesome community and a cool palace to work, book a few nights at Co.404 and come join the fun. Mexico being one of the most digital nomad-friendly countries, you're sure to find yourself in good company.
7. Take Hostel Conil, Conil de la Frontera, Spain
Take Hostel Conil is perfect for nomads migrating to cold Europe from the sun-and-surf lifestyles of Southeast Asia.
The hostel is located on the south coast of Spain, in Andalucia, which in my humblest opinion is the absolute best region to live in Spain. It's located close to Cadiz, often said to be the oldest city in Western Europe, so you're also close to some good city life.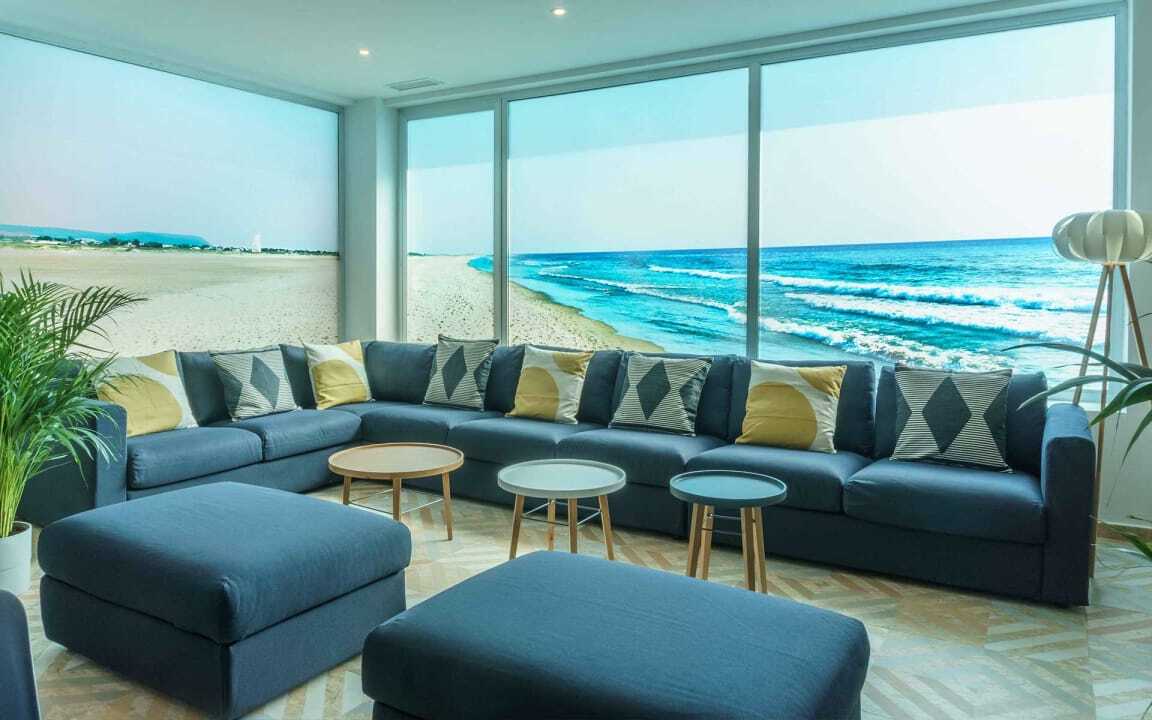 The hostel specialises in surf and other watersports but it has definitely noted the uptick in digital nomads and renovated its premises to respond to it. Digital nomad statistics show that many travellers want a hostel with a working space, and Take Hostel delivers.
The hostel offers its guests two different coworking spaces, one of them even featuring private spaces for remote meetings and calls.
They even offer deals for people wanting to stay for a longer time! So, if you're looking for a place in Europe to get your surf on between business, this could be it.
8. Nomades Coliving, Florianopolis, Brazil
Nomades Coliving is here for its community. If you're looking for a place to "build meaningful relationships, start new ventures and enjoy your free time" (who isn't?), this is it.
Florianopolis – or Floripa, as the locals lovingly call it – is one of the most chilled-out cities in Brazil. It's been the worst-kept secret of backpackers in Brazil for ages, and is now rising in popularity among digital nomads, too. It's also known for its sun and surf so if you love the sea, it's time to check it out!
The hostel has a co-working space with a printer – and coffee, of course. The photos show a whole array of working options from comfy couches to proper office equipment, so take your pick.
Nomades Coliving takes care of its community. Every night, the hostel offers a free vegan or vegetarian dinner to its guests. You can also pick between cool dorms or quiet private rooms, whatever you like!
Wherever You Roam… Don't Forget Insurance
Keep your precious electronics safe, and most precious of all – you! It's always recommended to have a good travel insurance policy in place.
Month to month payments, no lock-in contracts, and no itineraries required: that's the exact kind of insurance digital nomads and long-term traveller types need. Cover yo' pretty little self while you live the DREAM!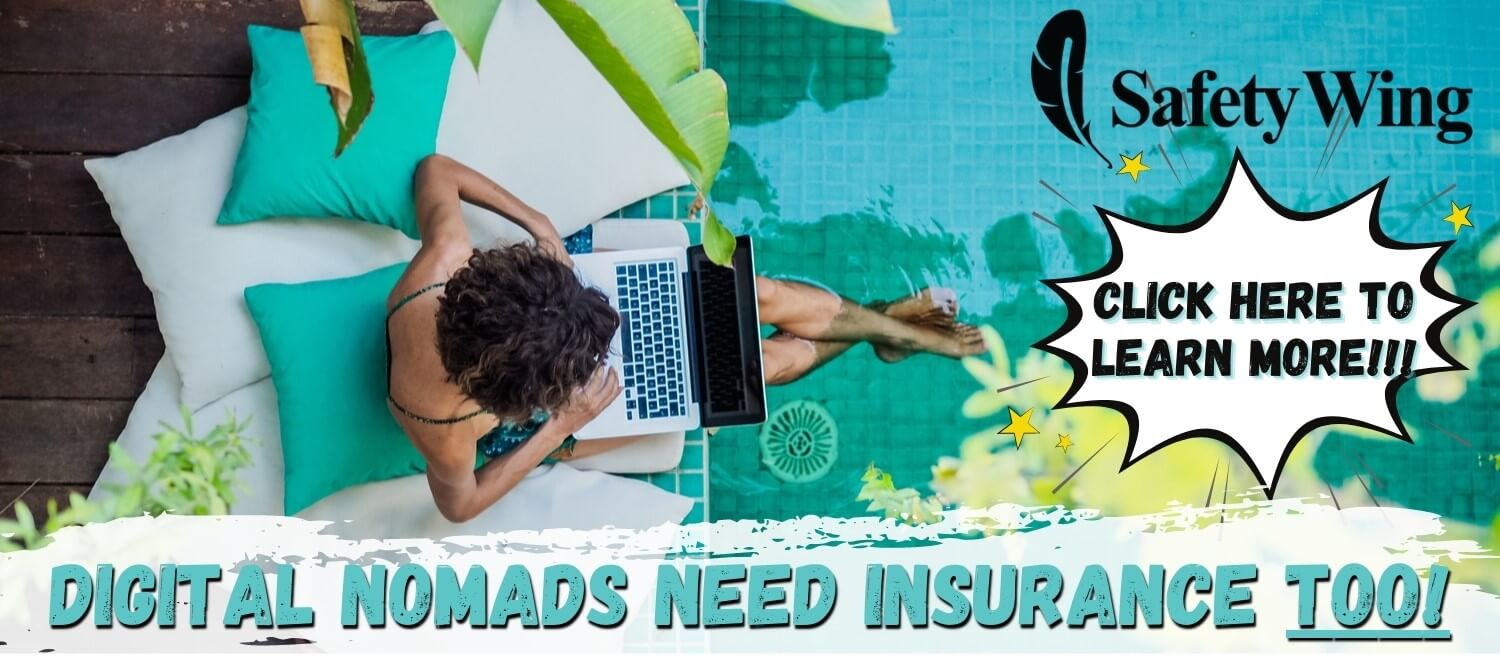 SafetyWing is cheap, easy, and admin-free: just sign up lickety-split so you can get back to work! Click the button below to learn more about SafetyWing's setup or read our insider review for the full tasty scoop.
Not a Fan of Hostels? There are more options.
Here are a few ideas of where to stay as a digital nomad.
Airbnb: Airbnb's best advantage is that it allows you to look for long-term accommodation (4+ weeks). It's a great option if you're looking for something more private, but in case you get lonely, Airbnb listings also include guesthouses, hostels and other shared options.

Coliving: Pretty much every digital nomad city in the world offers some sort of coliving options. Coliving is much like a hostel but usually has mostly private rooms and only accepts digital nomad types. Look for options especially through local coworking spaces.

Vanlife: Sure, you might often be struggling to find good wifi, but how epic would it be to live in a van while working? Many digital nomads are making this dream a reality so it is far from impossible!
So, here you have it, friends and gentlefolk: the best hostels for digital nomads around the world. The best option for worldwide wanderers who have a real digital nomad job but are not ready to let go of the hostel life just yet!
We're still pretty early on for the digital nomad revolution so I'm sure this list will grow a lot in the next few years. For now, the spaces offered in hostels are still taking baby steps. 
The good news is that most hostels that will now be starting to attract digital nomads are being specifically built or renovated to cater to them, whether you're copywriting, coaching or teaching English.
This means that future hostels will have better desks – better wifi – better everything. And since they'll all be pretty new, you'll be sure that they'll have super modern facilities. They'll truly be the elite of hostels in any kind of category.
Personally, I'm most excited to see if the onslaught of digital nomad hostels can also shape hostel culture in general. I'm WAY past my partying years so it would be awesome to see more hostels creating meaningful connections between their residents without the emblematic pub crawls and booze-ups.
For now, check out one or more of these dope spots on this list! And let me know how it went 🙂
---
Bye for now, but not forever!
If you want MORE top-tier Broke Backpacker content like this, then sign up for our weekly newsletter below to get the latest and greatest!
And for transparency's sake, please know that some of the links in our content are affiliate links. That means that if you book your accommodation, buy your gear, or sort your insurance through our link, we earn a small commission (at no extra cost to you). That said, we only link to the gear we trust and never recommend services we don't believe are up to scratch. Again, thank you!